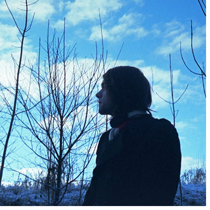 Alexander von Mehren is a 29 years old pianist, songwriter and producer from Bergen, Norway. He started playing the piano at the age of four and began receiving classical piano lessons when he turned seven. During his ten years of classical training, von Mehren gradually developed an interest in alternative music and started writing his own compositions, especially inspired by French, German, Italian and British library music, 60s/70s soundtracks, alternative pop à la Stereolab and The High Llamas and the Chicago-based post-rock scene.

von Mehren established his own studio, The Guestroom, outside Bergen and gradually filled it with recording equipment and instruments such as upright piano, Fender Rhodes, Moog, keyboards, vibraphone, marimba, bass, guitars, drums and percussion, allowing him to work with a variety of sounds in his music. In 2005 von Mehren started the recording of his debut album, developing an airy and organic soundscape with a meticulous approach to songwriting within the alternative pop scene, presented in lively instrumentals as well as songs with French and English lyrics. Playing most of the instruments himself, and continually helped by guitarists Fredrik Drønen and Erlend Alm Lerstad, vocalists and strings and brass performers, von Mehren finished the recording process in the summer of 2010 shortly before spending two weeks at Soma Electronic Music Studios in Chicago mixing the album with producer John McEntire.

The album, entitled Aéropop, was mastered by Steve Rooke at Abbey Road Studios in London April 2012 and released on 180-grams vinyl, CD and digital formats August 20th in North America via The Control Group, August 21st in Japan via Rallye Label and August 23rd in Norway via Klangkollektivet. The album was made available everywhere else on digital formats August 23rd via Aéropop Records, except UK, where it was released via Folkwit Records September 16th. Aéropop also features musical contributions by members of The High Llamas, Tortoise, Jaga Jazzist, Orwell and Modular.

von Mehren appears live with a five-piece ensemble consisting of guitarists Fredrik Drønen and Erlend Alm Lerstad, bassist Chris Holm, drummer Kim Åge Furuhaug and saxophonist Erlend Hausken. The band debuted at a sold-out Landmark in Bergen December 2009 before performing at Kvarteret in Bergen and the by:Larm festival in Oslo February 2011 as well as Jassbox/Bergenfest April 2011 and Tellés Sommerfest August 2012. The album release will be followed by concerts in Norway and USA.

von Mehren also performs regularly in the live bands of Sondre Lerche and Nathalie Nordnes and has contributed live and in studio with acts such as Bobby Hughes Combination (piano, keyboards), Kinny & Horne (piano), Chris Joss (vibraphone), Orwell (strings and brass arrangements, piano, percussion), Le Futur Pompiste (vibraphone), Milk / Taro Umebayashi (drums, percussion, vibraphone, vocals), Young Dreams (vibraphone, glockenspiel), The Sheriff (piano, keyboards, vibraphone), William Hut (piano, keyboards), Hypertext (piano, keyboards, vibraphone), O. Martin (production, mixing, piano, vibraphone) and The Alexandria Quartet (strings arrangements).